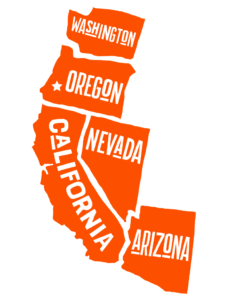 Are you frustrated with your existing service?
Let A&M Transport be your solution to all your freight and transportation needs. We are an asset-based carrier and service 100% of all our loads from start to finish. We offer a trailer pool program enabling our customers to transport more freight efficiently. We value the long-term partnerships we have built with our customers during our years in business and we look forward to forming strong partnerships with new customers long into the future.
Our secure truck yard is conveniently located along Interstate 5 in Glendale, Oregon. Our location is 4 hours to the Portland, OR market; 7 hours to the Seattle, WA market; 7 hours to the Northern CA market; and 16 hours to the Southern CA market. Our location is just one of the many reasons we are able to provide our customers with a 98.5% on-time pickup.
Some other statistics we are proud of:
25% or less driver turnover (industry standard is 72%)
Excellent safety record and insurance compliance.
100% company drivers
Market competitive pricing
100% service in the Western United States with over 90% along the Interstate-5 corridor.
Questions?
Rachael Larson
Director of Sales & Marketing
rachael@amtransport.com
541.832.3446
541.450.0400
Contact us today for a price quote. We look forward to working together to meet all your logistical needs.
"A&M is an amazing company to work for. They have a family oriented company system that makes you feel right at home however it is a business so no slacking off on the clock. I loved working with them."

Dan
"Best trucking company anywhere. Treats their customers and their employees GREAT! Want a job running the I-5 corridor? A & M is for you! Need freight hauled? Give them a call."

Caroline L.
"Very good family run business. They pay well, offer good home time and treat employees well."

Dennis S.
"Not only is this company an Oregon Trusted Carrier Partner, they are listed as one of the "best" family owned businesses in the industry. They are below the national average when it comes to violations, not to mention, they have a stringent driver orientation, which is very lengthy, and currently use electronic logs on all their equipment. I've seen their drivers, on the roads, at customers, and in person - they are the most friendly, personable, professionals I have interacted with."
"Awesome family owned business. They are professional and caring. They go way out of their way to meet your needs. They put the needs of you and the community ahead of anything else. Words can not express how awesome they are. AAAA++++"

Ronald D.
"Greatest trucking company in the entire world."

Adam E.
"Great family owned company my dad has worked there 18 years now."
"I have been with A & M Transport four plus years. In my previous employment, I went all over the country. Now being with A & M and our west coast routes, miles given, the support both technical and benefits, I have decided to finish out my career with A & M Transport."

Steve D.
"A&M is my second family. No we don't always see eye to eye, but they never make you feel alone or just another body filling a seat. The minute I was hired I've felt like I was family. I can tell you when things go bad they got your back, they will help you in any way they can. It's the only place I've worked at that I'm proud to say I'm part of that company. The team is amazing here."

Travis N.
"I'm a new driver, and just recently graduated from Aisling truck academy. This company has top notch trainers that helped give me the confidence and knowledge that I have today. The owners, dispatch, yard crew, and shop crew have all been very kind and helpful. This company brings me home every weekend, which is very important to a lot of people. They also give you all the miles you can handle running. The trucks and trailers are in excellent condition. I highly recommend this company that is family owned."

Michele J.
"A&M Transport is a good company to work for, it has an open door policy. Since recruitment I have been made to feel as part of a winning team. Personal or business issues are dealt with timely. The training program is phenomenal they equip you with all training tools to be successful using the latest equipment available. Most companies talk about safety standards but A&M Transport stand by it. As a family man I will have time to spend with my family and still get a steady paycheck to take home.
Enjoying my first job opportunity in America at A&M Transport."

Mabani M.